Winter Home Staging Tricks to Attract Buyers in the Slow Season
Consider the curb appeal
Landscaping is nice, but not in everyone's budget. At minimum, lawns should be freshly mowed, leaves raked, or snow shoveled.
Consider a hanging or potted plant for the entrance.
Sweep the porch, deck, and all the walk ways.  Remember to keep all the garbage and recycling neatly tucked away, and not visible from the front of the house.
Scrub your front door, porch, outside railings and steps. The entrance should be CLEAN.  If the outside paint needs a touch-up.  Do IT!  See OUTDOOR Staging below.
Get rid of clutter!
 Look at every item you own with a very critical eye and ask yourself why you're keeping it.  Start clearing away as much as possible.  All that is left should be stored in attractive, sharp ways or displayed with class and style.
Find a fix-it person
Have your fix-it person, plus a couple of new friends, walk through the house and give you honest feedback on the fixes, look of the furniture, flooring, color palette, cleanliness, and general look of the house…Inside and out!
Clean, clean and clean again
In this moment it's best to hire a professional company to come in and do the deep clean and then just maintain it.  Yes, everything needs to sparkle right now.  Absolutely sparkle.
Let in some air
Yes, before show time open some windows for at least 10 minutes. There is nothing worse than walking into a stuffy house or one that smells of smoke, perfume, sprays, and pet odors.
Let in some light
If you're trying to sell your home, keep it bright! Dimly lit rooms tend to look small and dingy— especially during the day. If there are any trees blocking light from the windows, trim them back to allow the light in. Some homes lack good natural light, so in those cases, introduce some nice artificial lighting to the spaces that need it. You can also paint the walls in a lighter color and use light fabrics on the window treatments. Light helps a space feel much larger and more open, two big selling features to all home buyers
Don't forget fresh flowers
You don't need to spend a fortune to have fresh flowers throughout your home. Even a daisy in a bud vase brightens a bathroom counter. 
You can also use potted flowering plants that are in season as a low-cost solution. 
Don't use plastic or obviously fake flowers, especially in an expensive home!
Carefully Consider Music
Soft background music can help create a soothing environment and camouflage neighbor and traffic noise. But make sure the volume is very low.
PS – TVs are definitely a no-no.
Set the table
Another easy staging tip is to set the dining room table, breakfast table, and kitchen island (if it has bar stools) with plates, placemats, and stemware, and include a simple centerpiece on the first two. This small touch will ignite a buyer's imagination. It makes the home feel warmer and more inviting, which will appeal to a home buyer's emotions and help nudge them toward making a handsome offer.

Mirrors
Mirrors not only make a space look larger, but they also reflect light to make it brighter and more open. They are especially helpful in entryways, which are often small and/or lacking in sufficient lighting. You can also use them in hallways, over a fireplace or even over a bed.
Area rugs
Area rugs do wonders for defining a space and making it feel cozier. They are also great for covering up stains or damages on your flooring. Or, if you have colorful carpet you can't afford to replace, neutral area rugs can help tone down the color.
White towels
Every hotel has crisp, white towels, so people unconsciously equate them with luxury and relaxation. Put away your personal towels and place the new, white ones on the towel rack and folded over the tub during showings.
 Throw blankets & pillows
Let all who come through the home get a sense that the home is the beautiful and perfect spot to cozy up in and watch the snow and rain through the windows.
Chimney cleaning
Do put this as top priority and make sure to mention this in your Viewer's "Welcome List."
Light a fire
Make sure to keep the fireplace clean and have a blazing fire aglow when you're showing the home.
Candles
Make sure to have candles lit throughout the home but make sure that they emit a no fragrance and different viewers have difference smell preferences and one persons love of the smell of pine may be anothers' persons repulsion and encouragement to exit quickly.
Do decorate for each holiday
Yes, even after Christmas there's New Years, Valentine's Day, Easter, and Shamrock times.
Clean Entryways
Make sure to have an entry rug and quickly freshen entry floors before each showing.  Of course, you can also have a shoe cover basket available to all and make coming through the front door worth it!

Fresh bedding
The bed is the focal point of any bedroom, especially in the master, so it's important that it helps the space capture a feeling of relaxation. You want it to look like a personal retreat buyers will be itching to unwind in. An easy way to do this is to switch out to your bedding to something fresh and new. Stick with white or neutrals and bring in some color through a few accent pillows. If your dog or cat lays on the bed, an alternative option is a coverlet. At night, use your regular comforter, but then switch it out during showings to the "show ready" option.
Create a WELCOME LIST
Create a sharply designed WELCOME LIST that allows each viewer to learn in bullet points:
Overview of the home's history.
Benefits of living in the neighborhood.
What plant, shrub, and tree varieties are growing on the property.
Latest home repairs and upgrades.
Up and coming repairs.
Info about the surrounding neighbors.
OUTSIDE Staging
Show how outdoor rooms can be used even in the coldest months
If you have a covered porch or outdoor fireplace, be sure to keep the area fully furnished. Turn on outdoor lights, build a fire in the fireplace and drape a few thick throws over your outdoor furniture.

Outdoor containers
Container plants, especially large tropicals, add considerable interest to patios and doorways where would-be buyers enter and exit the house. Such displays also demonstrate the endless possibilities for designing with container plants.Show off the the fruit-bearing and herb containers with pride as well.  Here in the PNW  we have many edible yards.
Nothing spruces up a place like a new application of mulch, so apply a fresh layer in all your garden beds. The color enhances the contrast of the surrounding plants and makes everything pop. What's more, mulch is relatively inexpensive and easy to apply.
Seasonal color makes the landscape pop as well, and flats of annuals are also relatively inexpensive. Go for a splash of several colors or a more monochromatic scheme, whatever fits in with the look of your home.
Let's add some sound
Fountains, bird feeders, and outdoor speakers are always a nice touch!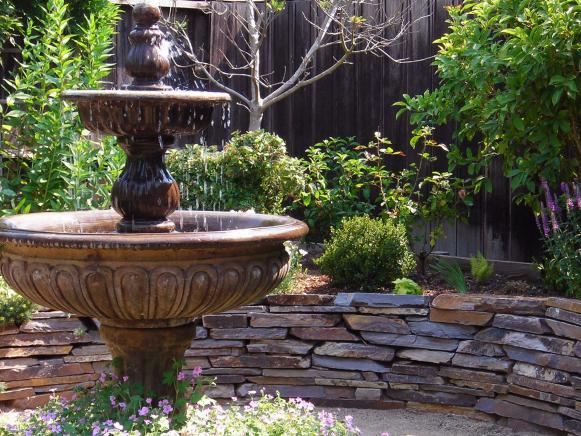 Shape unsightly or overgrown trees and shrubs
Regardless of the season, it's a good idea to tackle any overlooked pruning chores because nothing says neglect like a bunch of dead branches. The idea is to show how well not only your house but your garden has been maintained. It's okay to prune deciduous trees and shrubs any time of the year.
Tidy up herbaceous plants, such as annuals and perennials, that don't look as good as they should. If a plant is in such bad shape that it needs to be removed and replaced with tasteful and decorative.
Tip: Now is also a good time to dig up any plants that you want to take with you to your new home. If you intend to remove any landscape plants and haven't already done so, you have an obligation to inform the buyer exactly which plants you plan on digging up.
Get rid of any visible algae, remove leaves and clean filters so that the water is crystal clear. After all, a water feature that doesn't look good or function properly can be an instant turnoff.
Take care of any irrigation issues
If there are any problems with an irrigation system, fix them. Irrigation system repairs can be expensive, and you don't want to lay the cost of those repairs on the buyer. Provide information about your irrigation schedule, especially if you have an automatic system. Include instructions as to how the system operates and recommend the same watering schedule that's worked for you.
A leaking faucet suggests that there may be other problems elsewhere in the plumbing, and that can be an instant turn-off to buyers.
If you receive sufficient notice that your home is about to be shown, water a half-hour or so before the appointed time. The water reduces the glare of paved surfaces and also sends the message that your plants are well-maintained. You might even consider running your irrigation system just to show that it's working properly. 
Consider labeling as many plants as possible
That way the buyer will at least know the name of each plant and can then research their growing needs. Also consider creating a complete plant inventory in scrapbook form and leaving it out on a table for prospective buyers to browse through as they tour your home. This relatively simple step can have a powerful effect on buyers, whether they're gardeners or not. 
Power-wash dirty surfaces
Consider buying or renting a power washer to clean paved surfaces. With very little time or effort, you can make grungy, grimy surfaces look brand-spanking new. Power washers also do a great job of cleaning fences, as well as brick and vinyl siding.
Come Join Us!
Images by Java Fern
This year we're doing our Last Thursday's a little differently, we're not doing it anymore! Instead, we will be hosting quarterly receptions this year to showcase our beautiful artwork on the Dwell walls and the artists.  Please join us and our Dwell friends in February with a glass of wine with amazing people and art. We hope to see you next month! Come join us at:
Thursday, February 22, 2018 from 5:30 PM to 8:30 PM (PST)
"The best time to buy a home is always five years ago." – Ray Brown
Recommended Blogs.  Check OUT
Author:  Madeline Nelson from Queens Courier in NY.